Pictures of Lonseal Vinyl Installed by Customers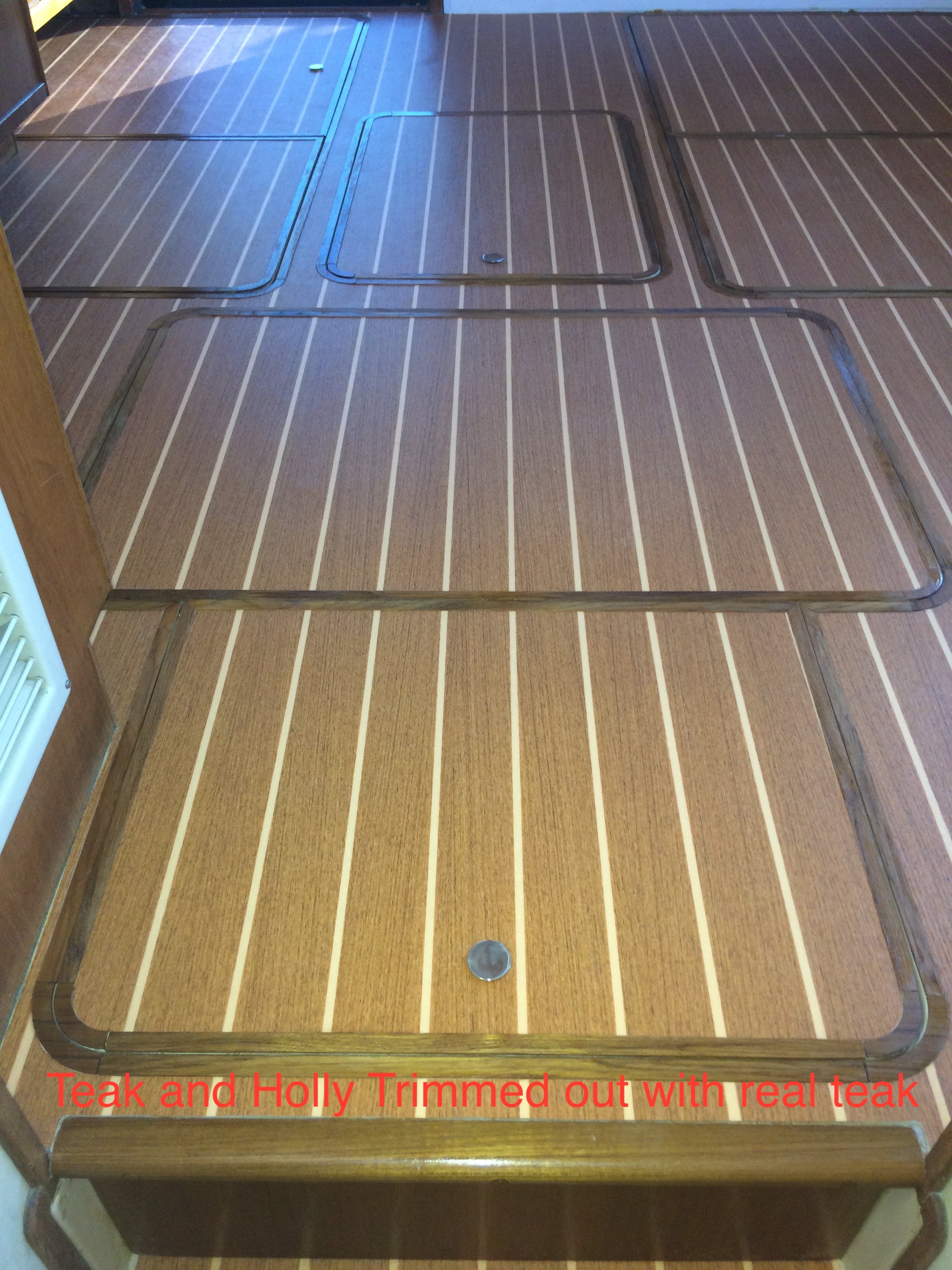 Pictures of Lonseal Vinyl Installed by Customers
I have started this collection of Lonseal vinyl installed by customers for everyone to see the results they achieved with most of them having no prior experience installing Lonseal vinyl flooring. There will be many more added as time goes by.
Jeff installed the Teak and Holly in this yacht and finished the edges with real wood.
He also installed it in the galley and used his carpentry skill to trim it all out with real teak. The difference in the color between in photo is from different amount of light in each photo.
Tim Installed the Mahogany and Holly in his beautiful boat. He trimmed out the edges with Lonseals vinyl L-trim.
Tom installed the Teak and Holly in his galley, this picture was taken before he added the trim.
Mango Vans, custom van creators, installed the following, this was their first installation and they said that Lonseal is what they will use from now on. The first pic is Antique and Ivory, the second pic is Lonpoint Moonwalk, blue.
See his walkthrough here: https://www.youtube.com/watch?v=eDQsYKg_Qrc
This customer installed Lonbead in his van.
Greg decided he wanted a fake hatch installed in his office, even though the installation was not complete in this pic, you can still see how cool the hatch turned out. He used the Antique and Ivory for this floor.
Hi Jerry - This is what the Bass Buggy 18 circa 1994 came out like with your flooring.  My son and his friends did most of it.  I bought some ivory colored linoleum base board trim at Lowe's and finished it up on the sides/edges.    Note the aluminum plate I used below the deck swivel chairs.  Had those specially cut from 3/8" aircraft aluminum. 
Thus boat was a piece of junk cosmetically when we acquired it last September.   Just shows you what a little TLC and a $1,000 worth of flooring can do!
Thanks for your help and prompt service.
Best,
Peter…..
Patrick wrote: 
Love the flooring! Turned out great. And thanks for the help with the order. 
Lonplate 2
Dennis sent these pics of his ongoing project. He installed Loncoin 2 Flecks in this van. You can see how well the flecks will help hide the dirt.
Helen's New Van Flooring
Loncoin 2, Sonic Grey
Rick's boat in Huntington Beach, California
Hi Jerry, 
 I finally got the flooring installed on my MacGregor 26M.  I posted about it on two of the Facebook pages I follow.  Here's what I posted: 
 "Wanted to share a good flooring experience. Working on interior renovations on my 26M and decided to replace the ratty carpet with some nice vinyl. Got it from Jerry Tatton at AmeriTeakStore. He was super helpful, spending phone time to talk me through the project ahead of time. Using the two-part epoxy was interesting, but it went well. Took me about 45 minutes to lay it down. I masked all the edges and the surrounding areas. Used denatured alcohol to clean up any epoxy on the fiberglass or surface of the vinyl. Suggest you revisit the cleaning process an few hours later, as I found some epoxy residue on the surface I thought I had gotten on the first pass. Second pass got it all. https://ameriteakstore.com/"
---
---