The Top 8 Reasons Why Boat Vinyl Flooring Is More Popular than ever!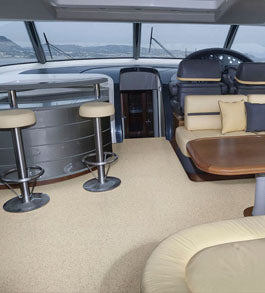 With so many choices of boat flooring, there are 8 great reasons why boat vinyl flooring is so popular today.
It doesn't retain moisture like carpet so it doesn't get moldy or have a bad odor. Specifically, Lonseal boat vinyl flooring.
It is almost maintenance free. You only need to apply a finish to it after you get it installed, and after that it only needs it applied again usually in a couple of years or so. It depends on the traffic it gets.
Applying the finish couldn't be easier. Just apply with a sponge mop, wait a few minutes and remove excess liquid off of the vinyl.
The life of the vinyl is longer than almost any other choice for a boat flooring.
The price of the material is much less than a lot of alternatives for your boat flooring.
Most of the vinyl boat flooring is actually installed by the boat owner. This really saves the boat owner a lot of money because of the cost of labor.
The styles and patterns available for your vinyl boat flooring project are vast and really modern.
Cleaning it is a snap. Just use a dust mop or a towel to wipe it down once in a while.
---
---