Carpet Replacement For Boats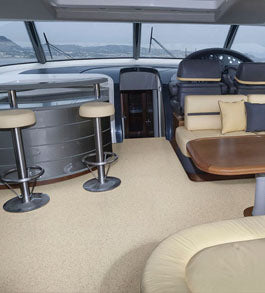 Carpet Replacement For Boats
When its time to replace your carpet you might want to consider the following:
There are much better alternatives to carpet.
Carpet holds moisture and will create mold and odor.
Carpet requires a vacuum in order to stay clean.
Carpet stains are a pain.
Carpet has formaldehyde in it.
Carpet has a short life span compared to other choices.
As a flooring contractor going back to 1980, I highly suggest consider using a marine vinyl from the Lonseal manufacturer which we are distributors for.
After many years of seeing different alternatives to interior flooring for boats I decided that this was the best solution for boaters. Most of our customers install this product themselves with great results.
This marine decking comes on a 6 ft. wide roll with many patterns to choose from.
We regularly have this product on sale and have the lowest price listed on the internet!
It's the easiest product to maintain with a broom, dust mop or towel.
We also provide free telephone support for you and your installer!
You can find all of the amazing choices with prices listed here: https://ameriteakstore.com/
---
---